Pre- & Perinatal Massage Therapy: A Comprehensive Guide to Prenatal, Labor, and Postpartum Practice, 2nd Edition
by Carole Osborne, CMT, NCBTMB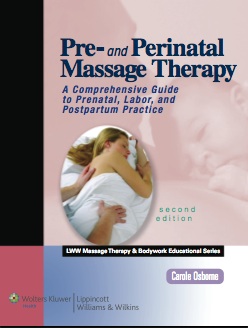 Pre- and Perinatal Massage Therapy explores techniques of therapeutic massage and bodywork that enable massage therapists to support mothers and their babies throughout the childbearing year. In this updated edition of her widely referenced text, noted maternity massage therapist and teacher, Carole Osborne, details the physiological, functional, and emotional developments of childbearing. The three included technique manuals teach clinically refined techniques, conveniently woven around women's common needs. With its solid research foundation and practical business wisdom, this book will prepare you to successfully integrate therapeutic touch into today's maternity healthcare. Experienced massage therapists' stories from decades of personal experiences and clinical successes will inspire your heart, mind, and bottom line.
Chapter Content
Chapter 1. Benefits of Prenatal and Perinatal Massage Therapy
Chapter 2. General Guidelines, Precautions, and Contraindications
Chapter 3. Client Positioning, Draping, Body Mechanics, and Other Practical Considerations
Chapter 4. Trimester Recommendations and Techniques
Chapter 5. Massage Therapy as Labor Support
Chapter 6. Postpartum Perspectives and Techniques
Chapter 7. Clients with Special Needs
Chapter 8. Business Considerations
Chapter 9. Profiles of Maternity Massage Therapists
Get fully up to date on these and many more topics
Evidence based benefits, precautions, contraindications and guidelines for safe practice
Practice-tested deep tissue, passive movement, reflexive, neuromuscular, circulatory and other advanced techniques that go well beyond the basics
How to address expectant women's most common needs, back/pelvic pain relief and stress reduction. Additional techniques focus on other typical concerns such as difficulty sleeping, hip/leg, ribcage and arm pain, edema, nausea and other gastrointestinal imbalances, and preparing for labor
Positioning benefits, restrictions and how therapist and client can be ultra-comfortable
Body use for effectiveness, grace, ease and career longevity
Business and marketing practices that will help to fill your booking calendar
Varying opinions on issues such as depth of pressure; massage in the first trimester; working effectively and safely with edema; sacral, breast, and perineal massage
How to proceed if a pregnancy is high-risk or if complications develop
Labor and postpartum techniques that nurture the births of mothers and their babies
Working in situations that require additional sensitivity such as with women undergoing infertility treatment, diversity of couples, and survivors of childhood sexual abuse
Supporting assimilation of the emotional components of childbearing
Using massage therapy with women in labor to ease pain, relax and soothe, and support her vision of birthing
Facilitating postpartum physiological and structural recovery while easing the strain of newborn care
Post-cesarean birth recovery and support
Working cooperatively with obstetrical, midwifery and other maternity healthcare professionals
Obstetrical terminology, medications, and procedures and how massage may support positive outcomes from them
Bonus Features
Access to a unique series of video clips demonstrating techniques as well as other essential concepts and a wide range of professional and medical resources compiled specifically to support your success.
Note: Used copies sold on other sites will NOT have a code to access these online resources.
Purchase here to SAVE $3 off of publisher's suggested retail price, and usually at or less than Amazon's price! Did you know that direct purchase sends more of your money and appreciation directly to Carole. Thank you for your direct purchase through this website.
Book Specifications
Product Format: Softbound
Pages: 214
Publication date: 2012
Reviews
"Not only is this text a wonderful resource for the therapist – packed with insight, information and techniques, but it is also a terrific gift to mommas and babies. The gift of competent, confident and nurturing touch during pregnancy, labor and postpartum can have such an impact on a family's life and this book gives practitioners what they need to deliver that type of care."
— Andrew Biel, Author of Trail Guide to the Body
"Carole has continually enhanced the field of massage therapy, with her teaching and her writing, over the last several decades. She has now done it again. This revised version of her already fantastic guide to all things pre- and peri- and postnatal is even more remarkable than the original. Read it and be a better practitioner."
— David Lobentstine, MT
"This book is an essential guide to practitioners who need a clear, in depth, organized support in their practice with pregnant families. Even if you do not practice the hands-on techniques, the information provided in this book will create awareness that will broaden your perception of the beauty and the primal aspect of birthing. It may inspire you to practice your craft with pregnant woman with an educated and confident touch. Carole Osborne is a pioneer in the field of educated touch. She is a master teacher. Her work has supported and transformed the evolution of the medical and alternative health professions for more than 30 years. As an author, she has set the standard of massage therapy, body therapy, Holistic medicine to an all new level of professionalism. A must to read and to re-read!"
— Pauline Torrey, MT and Holistic Healer
Pre- & Perinatal Massage Therapy, 1st Edition
by Carole Osborne-Sheets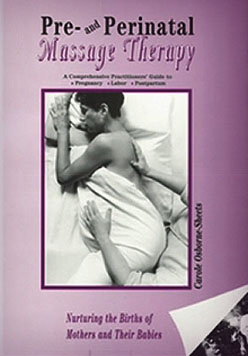 If you are like most massage therapists, you prop a pregnant woman with multitudes of pillows then modify your general massage routine for the unusual position… not fathoming the extensive physiological, structural, and emotional adaptations of pregnancy… without the assurance of well researched, sound safety guidelines…and with the highest intentions to enhance the new mother's childbearing experience.
Now, spirit and practice can coalesce with the guidance of this textbook. Thorough clinical protocols and relevant procedures, supplemented by abundant references, photos and illustrations, bring over 22 years of maternity massage therapy expertise to your hands. This book will give you the comprehensive foundation you need to safely and effectively support the birth of a mother and her baby.
Chapters
Benefits and Rationale
Guidelines and Precautions
Trimester Recommendations
Labor and Birth Facilitation
Postpartum Bodywork
There is a limited supply of these first edition books. If you are looking for the most current version of Carole's book, please refer to Pre- & Perinatal Massage Therapy, 2nd Edition above.
Book Specifications
Product Format: Softbound
Pages: 171
Publication date: 1998
Testimonial
"This is the basic reference for massage therapists and bodyworkers and should be in the libraries of everyone providing care for childbearing women. "
— Penny Simkin, PT, Author and Doula
Deep Tissue Sculpting: A Technical and Artistic Manual for Therapeutic Bodywork Practitioners, 2nd Edition
by Carole Osborne-Sheets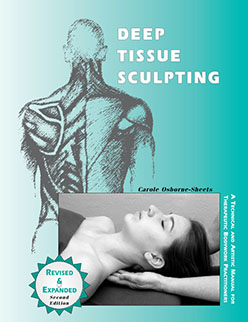 Study the art and science of a myofascial style that is effective yet non-intrusive, and can be effectively integrated with other soft tissue, neuromuscular, and somatic methods. This easy to follow instructional manual incorporates over 30 procedures into three purposeful sessions. All practitioners will enhance their table work effectiveness with the body mechanics, body psychology, structural principles, lifestyle considerations, biomechanical research and exercise included. Deep Tissue Sculpting presents both the intuitive and artistic perspectives of a therapeutic method which encourages physical and emotional tension relief.
What will this book help you to facilitate?
more lasting results from your massage therapy sessions
improved professional recognition and interaction among healthcare providers
increased income through satisfied clients
reduced effort and fewer overuse syndromes
Contents
Chapter 1: Perspectives on Deep Tissue Sculpting
Chapter 2: Basic Principles of Deep Tissue Sculpting
Chapter 3: Structural Alignment and the Role of Injury and Illness in Back and Neck Pain
Chapter 4: Body/Mind: The Role of Emotions in Chronic Tension and Pain
Chapter 5: How to Sculpt
Chapter 6: Health Maintenance for the Practitioner's Hands and Body
Chapter 7: Deep Tissue Sculpting Session for the Back
Chapter 8: Deep Tissue Sculpting Session for the Low Back and Abdomen
Chapter 9: Deep Tissue Sculpting Session for the Neck and Shoulders
Chapter 10: Full Body Sculpting and Applications to Other Body Areas; Tableside Technique Guide
Chapter 11: Integrating Deep Tissue Sculpting into a Practice
Chapter 12: Customizing Sculpting for Individual Clients
SUPPLEMENT

Appendix A   Muscular Anatomy Relevant to Sculpting Sessions
Appendix B   Skeletal Anatomy Relevant to Sculpting Sessions
Appendix C   Bibliography
Appendix D   About the Author
Publications, Videos, and Continuing Education
Others' Comments on Deep Tissue Sculpting
Book Specifications
Glossy, soft cover; spiral bound to lie flat during table use.
158 pages including over 50 illustrations, photographs, and charts
Publication date: 2002
Reviews and Testimonials
Reviewed by Lisa Mertz in Massage Therapy Journal, Spring, 2003
This new edition of Deep Tissue Sculpting, a how-to manual for cultivating consciousness, self-care and client connection-is very much up-to-date in providing a richly textured and uncomplicated mind/body perspective. Osborne-Sheets continues to make an important contribution to the massage therapy profession.
Reviewed by Charlotte Michael Versagi in Massage Magazine, Spring 2003
If this text by Carole Osborne-Sheets had been included in their [many students] curriculum, the mystery of deep work would have been resolved and the relationship of "tissue sculpting" to many other forms of bodywork would have been explained.
Sidelying Positioning System

Designed by Oakworks' engineers in consultation and collaboration with Carole Osborne, this system is the ultimate in comfort for side lying positioning. Now you and your clients can have all of side lying advantages with less of the problems. No more fussing with pillows that quickly flatten or migrate as you struggle to keep safe and comfortable alignment. With a few adaptations, you can also reconfigure the system for a secure semi-reclining positioning too.
This system stabilizes while soothingly cradling in all the right places – breasts, shoulders, necks, bellies, and hips, better than any other product on the market. As the name says, it's made for side lying, first and foremost. The net results:
Joint- neutral position that decreases pain while increasing your effectiveness and focus
Greater effectiveness and safety for pregnant and other special population clients
Versatility when clients are post-surgery or other medical treatments, when breathing or digestion are weak, or when postural deviations make prone positioning uncomfortable
Wider markets with other client populations, such as seniors, cancer patients, and anyone for whom better access for joint mobilization, hip and shoulder work, and better communication would improve session outcomes.
Oakworks' has over three decades of reputation for quality products and ethical practices that stand behind this new product, making its economical price even more appealing. Specifically shaped support cushions, top- quality varieties of foam and environmentally sensitive upholstery fabric all add stability and longevity to the system and further value to your investment.
Product Specifications: SLPS consists of 6 ergonomically designed components: head support, torso cradle, leg bolster, medium wedge, pillow cover, carry and support strap.
Available in 21 color choices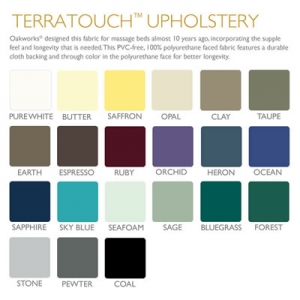 Discounted on this site to 20% of MSRP and available at all hands-on workshops at additional savings.
$225.00
Buy Now
Please allow up to three weeks for delivery.)
Homestudy Course: Prenatal Safety Essentials
This is your convenient, cost-effective way to be safer and more effective when you see pregnant clients for prenatal massage therapy. Your homestudy purchase includes:
· a new copy of Pre- and Perinatal Massage Therapy, 2e
· access to an online test
· an option for a 20 -minute phone consultation with an instructor during or after your studies
· 7 CE units after scoring 90% on the test
This homestudy course is recommended for therapists when working with clients having low-risk, uncomplicated pregnancies and for those seeking preparation for further education and/or certification.
$98.00   Buy Now

Certification Assessment Module
If you are ready to earn certification of your knowledge and performance of the techniques of Carole's Pre- and Perinatal Massage Therapy workshop, this module is for you. You will get access to testing online and will receive individualized feedback and assessment of a 30 minute video of a prenatal session that you record.
This module also includes step-by-step instructions through the certification process, hints and tips for success, a practice mini-test, and other materials to help prepare you for the evaluations. One of the most valuable elements of this module is the evaluation of your video by Carole or one of her experienced teaching assistants shared with you to provide detailed feedback on each of the 10-14 techniques you demonstrate, as well as the other criteria categories. You will receive a written assessment noting your proficiencies and the aspects recommended for improvement and refinement. Discussion and questions may be addressed with the evaluator via email or phone call.
When you meet the performance requirements on these assessments, you will receive a display quality certificate verifying your competency. Also as part of this certification assessment module, upon successful completion, you will then be eligible to list on our searchable database of certified maternity massage therapists
See the certification page for more on the process and the workshop page for the prerequisite hands-on training workshop required before purchase of this module.
DO NOT purchase this module if you have not attended and participated in 32 hours of Pre- and Perinatal Massage Therapy with Carole or one of her authorized instructors listed on this website. Please note that you will be asked to agree to other terms of agreement as part of your purchase.
$125.00  Buy Now