Michele Kolakowski, LMT, CD &CPD (DONA), CLC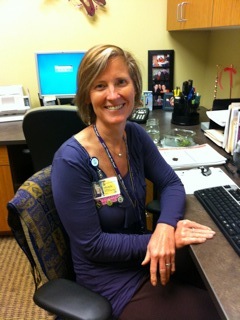 I bring more than two decades of diverse experience working with childbearing women and new families to the classroom. I consider it a privilege to teach Pre- and Perinatal Massage Therapy with my mentor and professional "mom", Carole Osborne.
I am the owner of Sanctuary Healing Arts LLC specializing in hands-on care for women and their wee ones since 1992. I offer prenatal and postnatal massage therapy, Maya Abdominal Therapy, infant massage and cranial sacral therapy, birth and postpartum doula care as well as educational talks and classes.
For more than a decade, I was program supervisor and the lead BirthPlace massage therapist for Longmont United Hospital's Health Center of Integrative Therapies, one of the most successful community hospital-based integrative medicine programs. Their innovative BirthPlace Massage Therapy Program continues to provide thousands of inpatient maternity massages to new mothers. I also have attended 150+ births as a Certified Birth Doula and member of Birth Assistants of Boulder, the county's oldest birth doula group. In 2015, I launched Sanctuary Doulas, Boulder County's first postpartum doula group, to provide more comprehensive day and night doula care with a blossoming team of six talented postpartum doulas.
Since my graduation from the Boulder College of Massage Therapy (BCMT) in Colorado in 1992, I have had the privilege to study with a number of maternity and infant massage pioneers including Carole Osborne, Suzanne Yates, Elaine Stillerman, Kate Jordan, Rosita Arvigo, Deanna Elliott and Carolyn Guenther-Molloy and Carol Gray. I helped design and instruct BCMT's150 hour Pregnancy, Labor and Postpartum Massage Therapy Certificate Program, as well as shorter prenatal, postpartum and infant massage electives from 1996-2005. In 2006, Cortiva Education brought me on board to lead the development of their 200 hour Maternity and Infant Massage Program. I have taught pregnancy massage at spas and conferences nationwide.
I am passionate about improving maternity care with interdisciplinary teamwork and speak with midwifery and obstetrician groups about how to integrate more patient-centered care practices into our healthcare for childbearing women and their babies. I am passionate and knowledgeable in maternity and infant massage, and committed to excellence in massage therapy education. I live in Longmont, Colorado with my family. I love high altitude gardening, hikes in the mountains, yoga, basketball (Go Tarheels!) and the joys of watching my boys become great young men.
Testimonials and Reviews
Amazing! The course was taught by Michele, and she was excellently knowledgeable and had amazing teaching connection. Loved the course! And in turn love my practice even more!